About Us
Welcome to Hart2Hart Vineyards
Hart 2 Hart Vineyards is a boutique winery nestled in the lovely Coloma Valley in the heart of Gold Country, along Historic Highway 49 and the American River. We are focused on nurturing our vines to develop premium estate-grown wines, and create memorable romantic experiences.
Jim and Sherrie Everhart are the proprietors of H2H, who began their adventure when they purchased nine acres of mature vineyards above Salmon Falls Road overlooking Folsom Lake, called the "Pilot Hill Lakeview Vineyard" or " H1". The vines here are unique, grown on their own root stock, which is very rare in the vineyards of this generation. With this hilltop micro climate, exceptional farming techniques, including handpicked small lots of fruit, our winemaker handcrafts small batches of exceptional smooth balanced wines.
In June 2013 we opened our "Coloma Valley Winery" or "H2", it is our primary location, and features our newly renovated wine tasting room, gift shop and event venue. We have more than 15 acres of mature vineyards with 7 different grape varietals including portugese port vines.
Come relax and enjoy the beauty of terraced picnic grounds shaded by heritage oak trees, surrounded by vineyards, fountains, rose and citrus gardens. Guests can enjoy our full wine tasting experience, by the glass or bottle, and share in the wonderful wine country experience.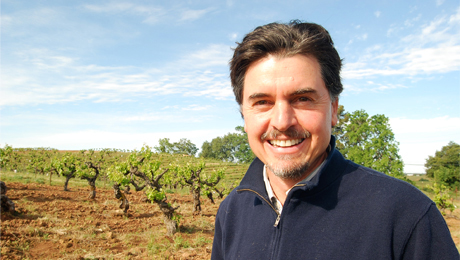 Marco Cappelli, Winemaker
Marco Cappelli is a gifted winemaker considered to be both an artist and technician for his new and old school practices, creating fine wines that best reflect our vineyard's terroir. In fact, his love of the vine runs deep: Marco is as comfortable tending his own El Dorado County vineyards as he is crafting wines for Hart 2 Hart.
A UC Davis graduate in enology, Marco has been making our wines since 2010. Previously, he made wines for Swanson Vineyards in Rutherford for 17 years, and apprenticed in Italy, France and Australia.
Marco lives by the belief, "Wine is as integral a part of our daily lives as bread and pasta, and a whole lot more fun."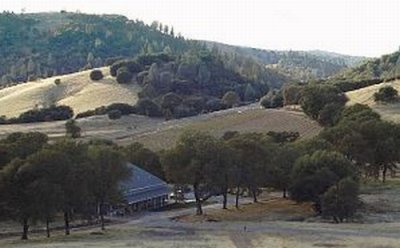 Coloma Valley is our primary location; it features our beautiful winetasting room, wedding and event facility, and custom crush facility. Nestled in El Dorado County's Sierra Foothills, across the highway from the South Fork of the American River and the Magnolia Ranch, a well known equestrian staging area into Cronan Ranch, it is in the perfect location for anyone looking to escape to golden wine country. Local parks are popular for hiking, horseback riding, and trail biking. Trails criss-cross the area and allow access to the South Fork of the American River, which is one of the most popular rafting rivers in the US!
The property is located between Auburn and Placerville on the historic Highway 49. El Dorado Hills would be a leisurely 30 minute drive and downtown Sacramento would be an hour distant.The 116 acres of beautiful rolling hillside consists of a 3,450 squarefoot custom vacation home, a 4,500 squarefoot winetasting and custom crush facility, a 3,000 squarefoot covered garden wedding and event pavilion, and 15 planted acres of irigated grapes.
The site and growing conditions are superb. The property is located in an ancient river valley in the lower foothills at an elevation of 800 to 1,000 feet. It's unique location near the South Fork of the American River and adjacent hills brings cool evening downdrafts and the soil consists of well drained decomposed granite.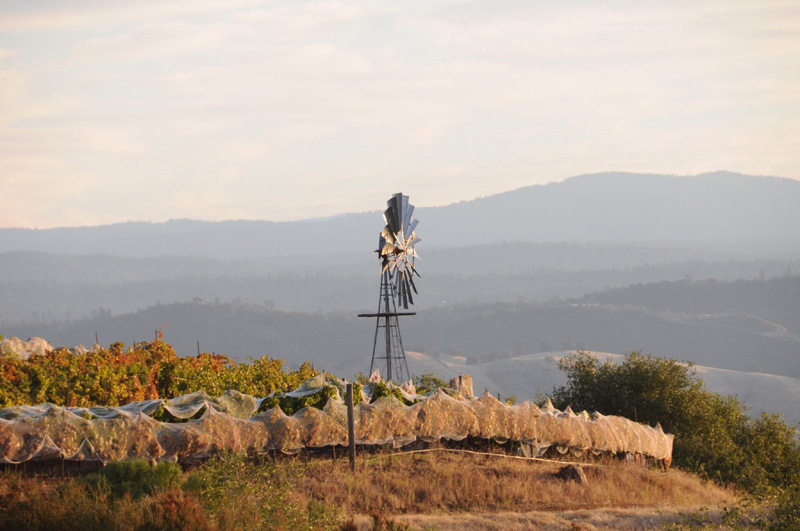 Pilot Hill Lakeview is our gem. From our hilltop at 1600 feet you have stunning 360 degree views of Folsom lake, the Sacramento valley, the coastal mountains, the buttes, Mount Diablo,the crystal mountain range and the Sierras. Did I miss anything? The morning sunrises and evening sunsets are stunning!
Then you notice the beautiful Tuscan style vineyard planted in the traditional terraced arched shape of long ago. This style of vineyard is more labor intensive because today's machinery is built for straight rows, however the beauty and romance of this style cannot be replaced. This is where our highly coveted Cabernet Sauvignon grapes are grown with hands on tender loving care.